---
---
ABOUT HOLLY
Holly is currently a Yoga Teacher and Puppy & Dog Trainer. She is best known for being a Professional Skateboarder. Holly is a 5 times X Games Athlete & World Cup Champion!
She's a Certified RYT, Yoga Teacher with Yoga Alliance the Official Governing Body for Professional Yoga Teachers and is currently teaching at LA'S #1 Yoga Studio, Hot 8 Yoga, voted by LA Hot List multiple years in a row. She was also a Health & Wellness Coach and used to teach fitness classes too. Let's sweat! 🔥🔥🔥
Realizing the importance of hard worker at a young age, Holly understands the discipline and commitment it takes to be your best. As a professional athlete, Holly is one out of three females in the entire world to ever have their own Signature Skateboard Shoe. She decided to immortalize her Chihuahua, Rerun by making him the icon for her shoe. They were a top seller 2 years in a row for a large a Canadian chain store with 142 stores all over Canada and Europe. Girl Power!
Holly also had her own Pro Model Skateboard with CG Decks. It was the top selling board for the company, which gave her a huge opportunity to be a positive Role Model for the youth. Not just in America but also across the globe. For over 4 years, Holly had an 'Ask A Pro' page where she voluntarily answered questions from girls and even lots of boys from around the world. One girl wrote her a 3 page letter telling Holly how she inspired her to not commit suicide. That was a life changing experience and shifted her perspective on how important it was to be a positive role model to others. Whether it's and individual or a community we all touch each others lives, so always make it positive. She also spoke at many schools and enjoyed volunteering and coaching kids on and off their boards.
Holly grew up in Northern California, a suburban town called Walnut Creek.
In high school, she played volleyball and was elected Team Captain her Senior Year. Everyone called it Holly-volleyball since she was such a great cheerleader and positive spirit on the team.
She always wanted to be a professional athlete yet at 5'2" she was vertically challenged to go pro. Her mom was a body builder when she was young, so Holly grew up eating healthy foods and learning about the importance of proper nutrition and exercise.
She graduated from the University of Santa Cruz with a Bachelor's of Science degree in Business Economics and found herself playing hooky a lot to snowboarded and skateboarded which she also started in high school. These sports were perfect for her height! After graduating, she moved to Lake Tahoe to snowboard in the winter and skateboard in the summer. She competed at the professional level of snowboarding in Super Pipe and Boarder-cross. Top ranking was 12th in the World. With her degree Holly produced, directed, and organized amateur skateboard contests in the summertime. She helped raise $150,000 for the Truckee, Ca. skate park which was the first permanent skate park in the area and she was the only female at the City Council events and helping to build the park.
After competing and traveling for snowboarding, she moved to Encinitas, Ca. to skate vert and pools more. Holly was invited to be a part of the first and only female vert demo at the Gravity Games. She was also invited to compete in the first ever-female vert contest at X Games lX. Holly moved on to compete 5 consecutive years in the summer X Games and is a World Cup Champion.
With her entrepreneurial spirit, she started her own clothing company called, SK8*GRL, aiming to inspire and empower the youth on or off their skateboard to follow their dreams and believe in them self. Her brand was the only female brand with VK Skate, California's largest skate Distribution Company. SK8*GRL was also asked to co-create tops with Warner Bros. and Supergirl for three different Supergirl Jam events, and Holly was a Supergirl Ambassador.
With all her action in skateboarding, some really fun TV stunt double opportunities came her way! Holly's been a SAG-AFTRA Performer since 2010 and a Principal Performer in multiple National Commercials, and a skateboard stunt double on 'Hannah Montana', 'That's So Raven', for Haylie Duff in the movie 'Dishdogz', and for Imogen Poots
in 'Roadies' on Showtime in 2016.
After her skateboarding career ended due to injuries and her clothing company came to close due to the down turn in the economy, she found Health & Wellness Coaching. Holly has always loved to help people be the best versions of themselves and realized she could now inspire people of all ages and from all walks of life to reach their health goals and be able to maintain them. For a few years, she worked with people one on one and in group settings creating personalized meal plans for her clients and exercise routines depending on goals.
Yoga has been a passion of Holly's since she first started back in 2003. It was a rainy day in Washington and her and some friends couldn't skate so her friend brought her to a yoga class. She fell in love! Her body hurt a lot from skating so much and yoga really helped her to heal injuries and feed her mind. After her sk8 career ended she started teaching yoga and became a certified RYT, Yoga Teacher.
"I love guiding people through their yoga practice and creating a space that allows them to go into a deeper awareness of them self."
We all live a multidimensional life and Holly has always had a love for all animals as well. After her beloved Chihuahua, Rerun passed she began volunteering at the
Lange Foundation
because she just had to be with dogs. Spending hours walking dogs everyday led to a serendipitous event where she began working for Karma Dog Training. All positive reinforcement training and teaching. In a million years, she never would have thought she would be a dog trainer but with her teacher mindset she fell in love with teaching and guiding puppies and dogs so they can focus and harness their beautiful minds.......and all their incredible energy!
Every week, she teaches Puppy Kindergarten in Santa Monica and Trains a lot of beautiful puppies and has many celebrity clientele. Say hello to the Puppy Whisperer!
Training Puppies during the day and teaching yoga at night has become the perfect blend of doing what she loves.
Inspire, uplift and support others through her yoga classes or private training's, and create a space where transformation is available for all people and pups.
We Are One....ONE LOVE!
---
---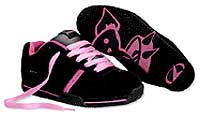 Holly's Signature Skateboard Shoe immortalizing here beloved Chihuahua, Rerun
---
---
SPONSORS
-Power Skate Shoes - Had a Signature Holly Lyons Shoe called 'The Rerun' which is the name of her Chihuahua.
(Holly is 1 out of 3 females in the World with their own skate shoe)

-CG Skateboards - Had a Pro Model Skateboard

-Roxy Clothing (snow & skate)

-RLX - Polo Sport Clothing (snow)

-GNU/Lib Tech Snowboards (snow & skate)

-Elan Snowboards

-Rossignal Snowboards

-Santa Cruz Skateboards

-Tahoe Board Co. (skate)

-Vans Shoes (snow & skate)

-Etnies Shoes (skate)

-Osiris Shoes (skate)

-Reef Shoes (skate)

-Airspeed (skate)

-Velvet Eyewear (snow & skate)

-Angel/Anarchy Eyewear (snow & skate)

-Nixon Watches (snow & skate)

-Dakine (snow & skate)

-Independent Trucks (skate)

-Sweenie Swimsuits

-SkinMarket Cosmetics

-Manitoba Harvest

-Guayaki Yerba Matte

-Withitgirl.com

-Go211.com